 If you are looking to rent scuba diving equipment, look no further and go directly to Divin'Giens. With their quality equipment, you can dive in complete safety and take full advantage of your underwater experience. Whether you are an experienced diver or just want to try your hand at snorkeling, Divin'Giens offers rental equipment suitable for all levels. You will be able to explore the magnificent seabed of the region with ease and comfort. Don't wait any longer and come rent your diving equipment from the Divin'Giens club to experience unforgettable underwater adventures.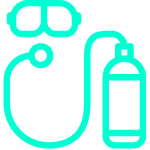 Computer (Leonardo) or Lamp Swimming accompaniment fins snorkel mask, shorty included
Located between Toulon and Sainte-Maxime on the French Riviera, the Divin'Giens club enjoys an ideal location for lovers of diving and snorkeling in the Var department. This region is famous for its many scuba diving sites, which offer unique experiences. Among the must-sees are the island of Porquerolles, the island of Port-Cros, the island of Levant and the Giens peninsula. These enchanting sites make the Provence-Alpes-Côte d'Azur region a real paradise for divers. Whether you are with your family or you are just starting out in diving, you can get started in complete peace of mind thanks to the many protected sites around Hyères. To take full advantage of these wonderful diving sites in the Var, the Divin'Giens club offers rental of quality diving equipment. Whether to explore the colorful seabed of Porquerolles, the fascinating wrecks off Port-Cros or the preserved underwater landscapes around the Giens peninsula , you will find at Divin'Giens all the necessary equipment. Do not hesitate any longer and rent your diving equipment at Divin'Giens to experience unforgettable underwater adventures in the crystal clear waters of the Var, in particular:
• Le sec de l'Armoire
• Le Mustang
• Le sec des deux Ancres
• Le sec Mistrale
• Le Sagona : Le Grec
• Le sec de Gabinière
• La pointe de la Croix
• Le sentier sous-marin Port-Cros
• Le ville de Grasse
You will understand, the Var is full of dive sites, to satisfy lovers of underwater activities.
Also discover our diving courses in Hyères, Porquerolles, & Port-Cros.